NEWS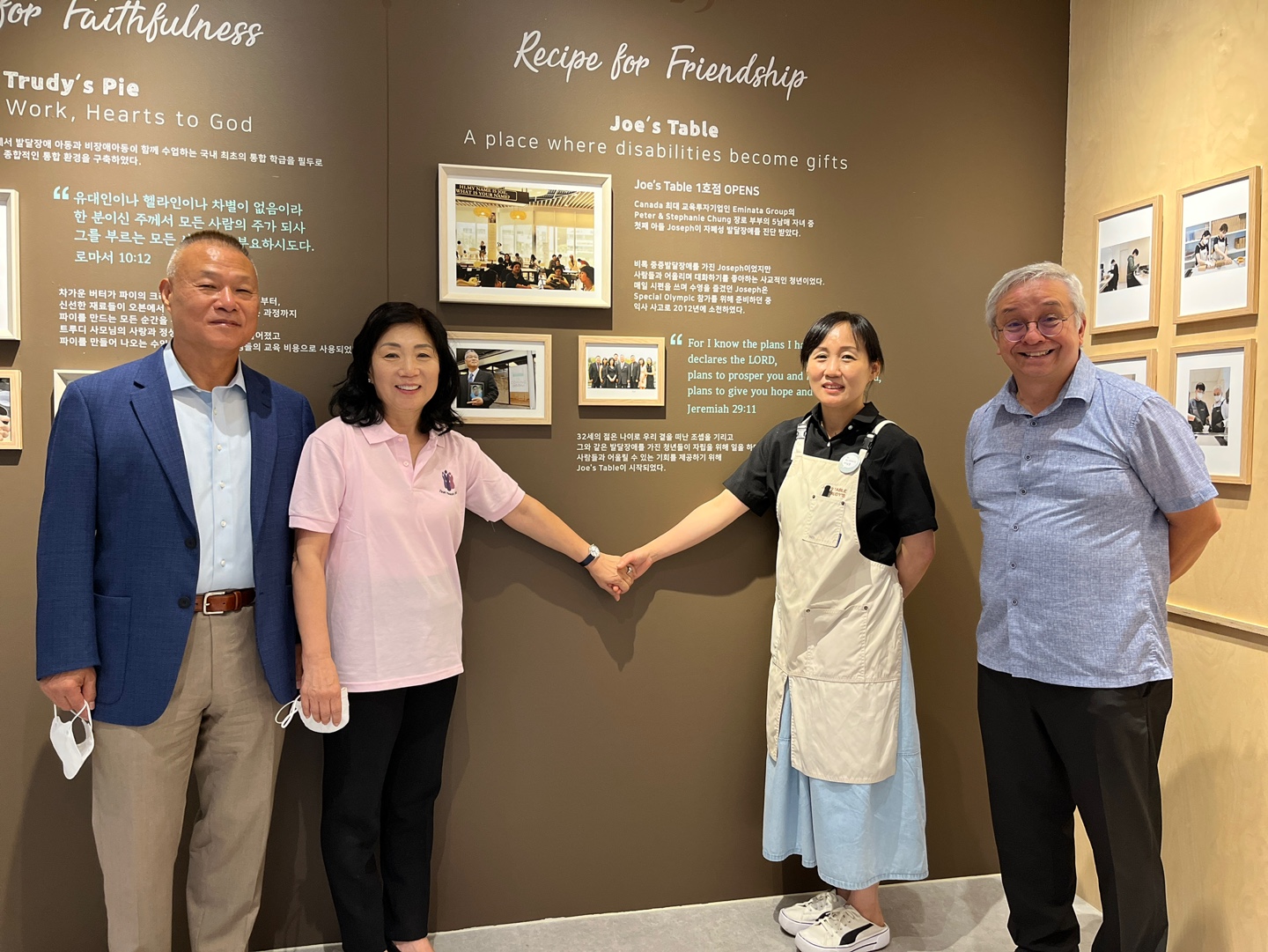 Joe's Table Cafe Opens Location In Korea

Wednesday, September 21, 2022
A new location of Joe's Table Café has opened in Suwon, South Korea. Joe's Table Café Kwangkyo is located in a newly-developed part of Suwon that features a beautiful lake and park nearby.
The store is a strategic partnership with Trudy's Pie Shop and YeoYu Bookstore to provide coffee lovers with a "shop-in-a-shop" experience. Book and coffee lovers alikes can peruse shelves upon shelves of the bestselling novels while enjoying a hot cup of java. The coffee shop can seat up to 80 people, providing ample space for readers.
Joe's Table Café Kwangkyo currently employs three fulltime differently-abled employees. The café hires staff with developmental disabilities such as autism orDown syndrome. The café also employs one full-time support staff member who provides training and support for the other employees.
Drs. Peter and Stephanie Chung, along with the Zion choir, were present for a grand opening event that exceeded the expectations and imaginations of the café staff and patrons. One of the café staff members was able to meet Dr. Stephanie Chung and shed a few tears of gratitude.
Peter and Stephanie both expressed their joy at the opening ceremony, saying that "It gives us great joy to be able to expand Joe's Table and to continue our mission of creating opportunities for meaningful employment for differently-abled people."
Joseph Kim from Joe's Table and Trudy's Pie Shop was excited for the partnership. He noted that both the coffee shop and the pie shop, which is run by his mother, have the same ethos and goal. "Combining these two ministries has developed such a synergy that we are getting many inquiries from other churches and ministries that would like to have similar setup," Joseph further explained.
During the closing remarks, Peter Chung echoed Joseph Kim's sentiments, "We are very encouraged to see that Joe's Table is being a catalyst for other groups to consider providing work place for the disabled."
Joe's Table Café looks forward to welcoming the community of Kwangkyo to enjoy an ethically-sourced cup of coffee while they enjoy some pie and a good book.
For more information about Trudy's Pie Shop, please visit: https://www.instagram.com/joes.table_trudys/.
For more information about Joe's Table, please visit: https://www.joestablecafe.com/
CONTACT US

Location
Suite 300 - 960 Quayside Drive
New Westminster, BC, V3M 6G2
Business Hours
Monday - Friday
8:00am to 5:00pm
Phone
604.915.7288