NEWS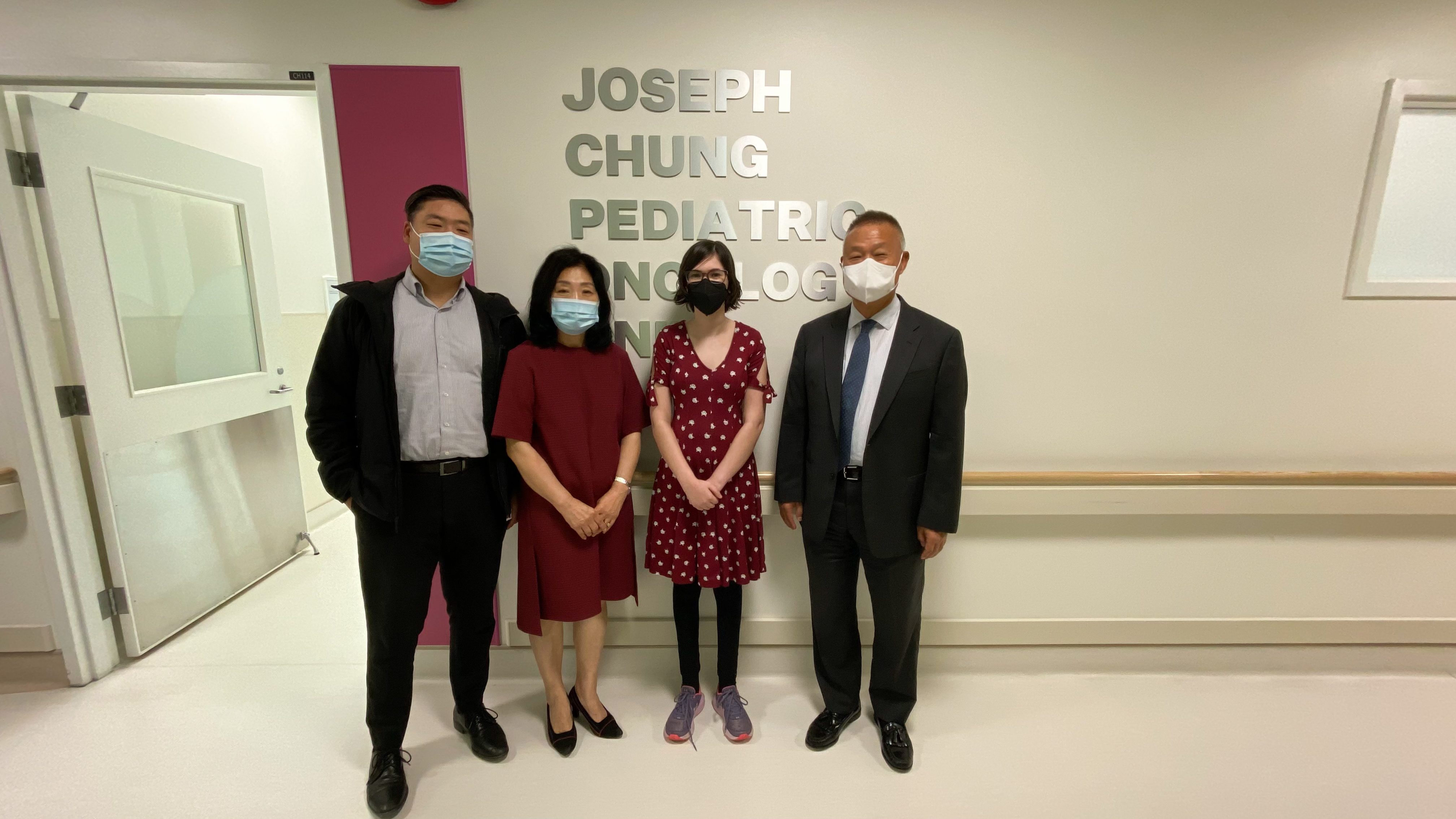 How a $1m Donation Impacts an Entire Region's Paediatric Oncology Treatment

Tuesday, June 28, 2022
When Dr. Chung heard about the need to renovate Surrey Memorial Hospital's Paediatric Oncology Unit, his response was to donate $1 million. Surrey Memorial Hospital is a cornerstone of the community, helping thousands of families in the Fraser Health region.
This June, Surrey Memorial Hospital's Vice President of Leadership Giving, Don Hickling, invited Drs. Peter and Stephanie Chung for a long-awaited tour of the new oncology unit. It had been closed off to all outside visits since the COVID-19 Pandemic health measures were put in place to keep its immune-compromised patients safe.
The $1 million dollar donation in 2019 from Dr. Peter Chung and family had a measurable effect on patients and their families.
Laura Drummond, the mother of Surrey Memorial Hospital patient, Grace, was very excited to share how the donation positively affected her life. Since the hospital is significantly closer to home than Grace's original treatment centre in Vancouver, the frequent commutes are shorter, saving them valuable time and reducing Grace's nausea from daily travel.
Forty-four percent of children with cancer live outside the boundaries of the Fraser Health Region. The unit's renovation has allowed more children to get care closer to home. Distance is a huge factor in the quality and timeliness of care that patients receive.
The newly renovated unit features windows that face an inner courtyard, brighter lights, and colourful interiors that make the space feel hopeful, cheery, and full of life. Drs. Peter and Stephanie Chung arranged in the past year for Grace to receive various art supplies to enable her to pursue her passion for the arts.
For that, and the new space, Grace is thankful. She told Dr. Chung, "Sun makes me happy; with this brighter space it feels more welcoming."
Staff at the hospital are likewise appreciative. "This donation helped us provide the standard of care we would hope for," said Don Hickling, Vice-President of Leadership Giving. "We are so grateful for the Chung's family generosity."
The newly renovated sections of the unit allow the hospital to increase protective measures that keep immunocompromised patients isolated while they get tests. This is especially important during pandemics like COVID.
Anna, the Oncology Unit Child Life worker said, "I'm so grateful for this space. We couldn't do this without your kindness and generosity… [I] take a lot of pride in the space I work at."
Great care and attention to detail was put into the renovation of the Paediatric Oncology Unit. After checking in at the reception area, children are engaged with acorns on each consultation room door. The number of acorns on the door reflects the room number. Children are also encouraged to use the augmented reality application, My Hospital Pal mobile app, to learn about what they can expect to experience during their treatment.
Surrey Memorial Hospital is a division of Fraser Health Authority and is currently the largest of three regional hospitals in Fraser Health's integrated network of care. It cared for a significant portion of the province's COVID patients during the pandemic. Learn more about Surrey Memorial Hospital here.
Primacorp Ventures is committed to community and healthcare. The Chung family also believes in enriching communities by investing in them.
CONTACT US

Location
Suite 300 - 960 Quayside Drive
New Westminster, BC, V3M 6G2
Business Hours
Monday - Friday
8:00am to 5:00pm
Phone
604.915.7288